Fine Art


James Dean | Drag Strip - Day Glow

Acrylic on Wood Panel + Mixed Media
High Gloss Resin

Cradled 40 X 30

11,500.00 USD
Credits
Artist: Jonathan Berube
During the filming of
Giant
from June through mid-September,
Warner Brothers
had barred Dean from all racing activities.
The James Dean
Drag Strip - Day Glow
piece is a layered confection of authentic
Drag Strip
comics from the 1970s, meticulously juxtaposed into a vintage American flag motif.
Though our lives can often seem to flash before our eyes at the speed of light, they're actually made of thousands of very precise singular moments, arranged as a nebulous whole that is often hiding behind a shinny veneer…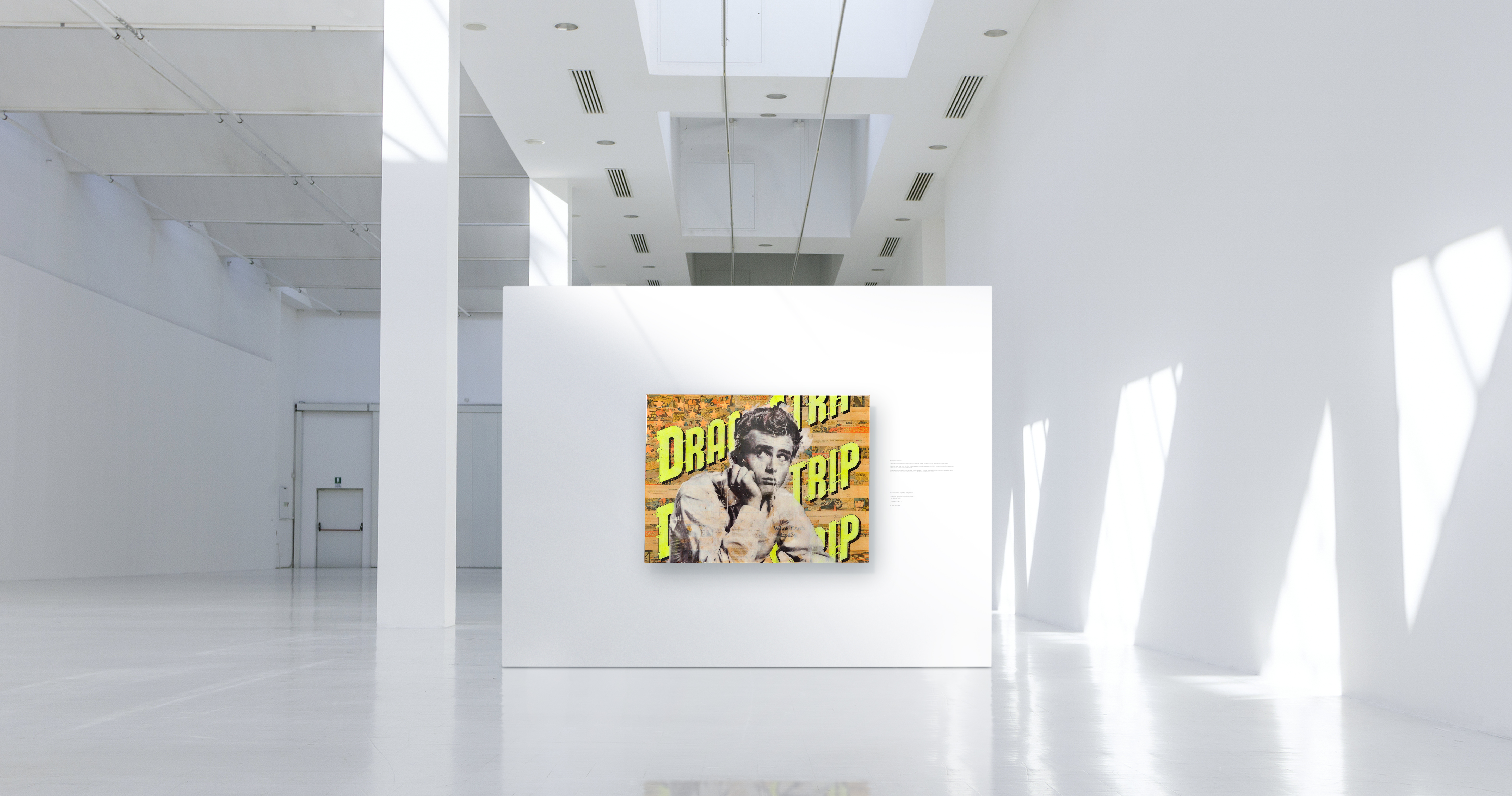 Just like a powerful Porsche engine block, the painting was assembled with precision through out its nuts and bolts.





Every single piece of comic panels are chosen based on their shape, color and content to perfectly fall into the bigger motif of the stars and stripes American flag.
Every car has a soul. A soul that vibrate with a voice of its own. Just like a classic roadster, the painting is finished in a thick luster resin coating thats seal all the pieces together into a timesless shinny whole.





Reflecting light in a perfectly smooth surface, the veneer levels off all of the superimposed medium imperfections into a cohesive front, just like us…



The wood panel, with its 40 x 30 surface, extrudes at a 1.5" depth, that is covered with illustrations from a collecitble Woody Wood Picker comic from 1969 titled The Sinister Signal.





We all present a glossy facade to the world through out our daily routine, but when approached from the side, we can sometime catch a glimps at the inner child easily disarmed by a good Saturday morning cartoon…



The Drag Strip graphics were hand painted and superimposed in a flashy Day Glow - Neon Yellow color to contrast against the tarnished, aged paper to give the piece a sense of freshness juxtaposed against its past.





Though we all have a tendency to dull out our colors to conform towards the false beleif of a need to be fitting in, our hearths will always love to watch the zest of the brights and bold.





After all, its the stars that glow-
Real artist ship
. A famous phrase from tech legend Steve Jobs during crunch time before the launch event of the Apple II. Another famous quote of his was
Stay Hungry - Stay Foolish
.
The quote is actually not his. It is from the editor in chief of the Whole Earth Epilogue Stewart Brand, 1974, who labeled the very first edition back cover of the catalogue with the quote.
The magazine featured essays and articles, but was primarily focused on product reviews. The editorial focus was on
self-sufficiency
,
ecology
, alternative education, "
do it yourself
" (DIY), and
holism
, and featured the slogan "access to tools".
The painting features the very first inner page of the magazine as a reminiscence of all the great from the past, acting as distant stars, guiding us towards greatness with the single belief,
yes you can –
On this note,
Stay Hungry, Stay Foolish –
CONTACT INFORMATION

Jonathan Berube
Director + Creative Director

DIRECTING REPRESENTATION

For all inquiries regarding Directing of Motion Pictures,
Animated Series, Game Trailers and Commercials,
Please contact Debbie Ross at Hydra Studios